2019 SBO Essay Contest
Thank you to all the students who participated in the 19th annual School Band and Orchestra Essay Contest. The contest deadline was December 31, 2018.
Check sbomagazine.com April 15th for a complete list of the winners and their school music programs. The 20th annual essay contest will commence September 1, 2019.
Entry deadline: December 31, 2018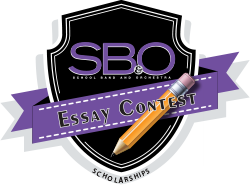 Platinum Sponsors


Gold Sponsor

Product Sponsors