Welcome to the New & Improved Digital Edition of
Choral Director

In this new issue...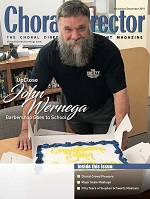 Magic to Do: Fifty Years of Stephen Schwartz Musicals
Broadway and Hollywood composer and lyricist Stephen Schwartz created his first song for Broadway fifty years ago; we celebrate Schwartz through learning scenarios

The ASCAP Foundation/Universal Theatrical Group Musical Theatre Workshop
Started in 1979 as the ASCAP Foundation Musical Theatre Workshop by Bye Bye Birdie and Annie composer Charles Strouse, this organization's purpose is to nurture and inspire new composers and lyricists for musical theater

UpClose Barbershop Goes to School - The Quinton Township School Music/Choral Program
In Quinton, New Jersey, groups of four or more students from a pre-K to eighth grade township school are wowing audiences as well as some of these older, more seasoned barbershop groups. Read about this next generation of barbershop singing

Off the Podium Herring's Head
This song's call-and-response structure, extroverted attitude, and whimsy makes it a popular and successful song to sing with large groups of children and adults

Choral Crowd-Pleaser "Smells Like Teen Spirit"
In this new column, Choral Director will present different choir works for schools and weigh in on their history and why they may be crowd-pleasers for your concerts

Music Ed: Mentor Minute 7 Ways to Create an Unforgettable Performance
Whether you're finishing up your holiday concert rehearsals, or starting to plan for your end-of-year finale, here are some ways to make your performance even more memorable

By Arrangement Major Scale Mashup
This one-page layout presents many of the various combinations of names and usage in a way that invites engagement and excitement

Practical Conductor Everybody's Doing It… and the Concert is Tomorrow!
There are many behaviors that set up success as a choir singer - here's how to tap into all of them right before a show
Read This Issue With Our App!
If you would like to be removed from our e-mailing list, click here to unsubscribe

If you are interested in receiving the Digital Edition of Choral Director,
you must be a subscriber to its Digital Edition.
Please click here to subscribe.

By requesting a subscription and filling out the information, you agree to be contacted via email, postal mail, or other methods regarding your magazine subscription or related editorial content. We will never share your information without your explicit permission and we will honor your wishes to remove your data from our systems.

Questions/Comments?

©2020 Timeless Communications, Corp.
6000 S. Eastern Ave. Suite 14-J Las Vegas, NV 89119
P: (702) 932-5585 • F: (702) 932-5584